DMV Designs
DMV has a wide range of carport, pergola verandah or patio Designs to suit all styles of homes. In the Portfolio section, you can see a selection of carports, verandahs, patios and pergolas we have designed and built.
Your carport, pergola verandah or patio will be custom designed, planned and constructed to suit your preferences and complement your home's architecture. Posts, beams, double-sided roofing sheets mixed with polycarbonate roof sheets, infills and colours are all interchangeable allowing you to achieve the perfect structure for your specific situation. Furthermore, these components have been designed to deter birds from nesting as a freestanding or attached structure.
To arrange a no-obligation design consultation, please call us on 0421 846 209 or fill in the inquiry form and we will contact you at your preferred time to arrange an appointment.
At the appointment, we will discuss all your needs and requirements regarding the personalised outdoor solutions for your home. Once you have decided on designs and materials we will create a detailed drawing and generate a contract for both parties to sign.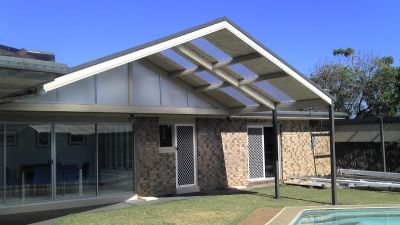 DMV Designs for Carports, Pergolas, Verandahs and Patios, Flat (Skillion) Roof, Gable Roof, Dutch Gable Roof, Hip Roof and Designer Roof, Curved Roof Pergolas – multi-wall polycarbonate roofing sheets.